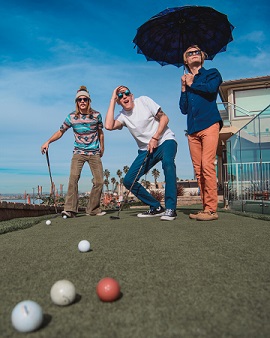 The listeners of ComicPop Library get an after Christmas present from The Captain's Son, with the premiere for their single "Aloha Love"!
The group has been hard at work this holiday season putting on the finishing touches of their newest single and our listeners to get the first chance to enjoy it.  Now that "Aloha Love" has been lovingly crafted it is ready to be received by the world.
With The Captain's Son I get to enjoy several sounds that has influenced them and this one is no different.  "Aloha Love" takes us back in the day again, which I love, and as the single's title suggests the band pays homage to the Jan & Dean/Beach Boys sound.  One of my first concerts as a teenager that my parents took me to, and this was back in the mid to late 1980's I'm not quite that old yet, was to a Beach Boys concert.  The Captain's Son, with their heavy guitar strumming, took me back to that concert experience and when I fell in love with the Beach Sound.
I really enjoy The Captain's Son and can't wait to hear what they will gift us with next.  Until then enjoy this late Christmas present, "Aloha Love", through The Captain's Son's SoundCloud page – Richard:
You can pick up "Aloha Single here to add to your music library: