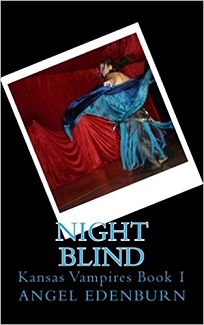 Ep 82 ComicPop Visits with Angel Edenburn Author of the "Kansas Vampires" Series
Vampires in Kansas?  There ain't no safe place in this world created by Angel Edenburn.  But hey we can have fun no matter what.  So join us as we visit with Angel as she gives our listeners some inside information on her upcoming books for the Kansas Vampire series and exclusive news about new stories she's working on.  Werewolves anyone?
What we discussed in this episode:
Night Blind, Kansas Vampires Book 1, Angel Edenburn, CreateSpace, 2015.  ISBN: 978-1518756824, $7.45.
Music clips:
"Strangers Like Me", Tarzan Soundtrack, Phil Collins, Walt Disney Records, 1999.
"One Call Away", Nine Track Mind, Charlie Puth, Artist Partner Group, 2016.
Links:
Angel Edenburn's Author Facebook Page
ComicPop Library's Facebook Page