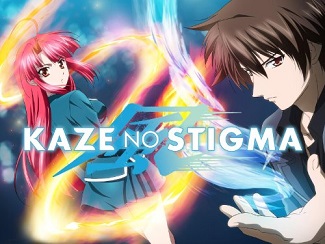 Ep 11 ComicPop Gets Animated with Kaze No Stigma
Join Logan and Richard as they travel back to Japan.  While there they wonder into a mystical battle for the ages.  They stand with Kazuma and Ayano as they navigate dangerous waters as well as the dangerous waters of Kazuma and Ayano's turbulent relationship!  Will they get along enough to defeat the evildoers in Kaze No Stigma: Complete Series.
Join us for another fun episode by listening above, at www.comicpoplibrary.com or wait until later today and it will be up on our iTunes feed.
Remember if you have a novel, graphic novel, movie/television series or an indie band you want us to check out let us know and we will put it in our review rotation list.  Also if you have a question or comment send us an e-mail at admin@comicpoplibrary.com and we will read it during a recording.  Thank you again for everyone that listens and supports us, we are steadily growing thanks to you.  So keep spreading the word about ComicPop Library to everyone you think might enjoy the show.
Item reviewed:
Kaze No Stigma: Compete Series S.A.V.E., Tyler Walker – director, FUNimation Prod., 2012.  ASIN: B005W2BWSA, $15.83.
Music clips used in this episode:
"Blast of Wind", Kaze No Stigma Opening, Saori Kiuji, Anime Project, 2007.
Links:
Rhonda Rees' Publishing Company